Mozambique CFM company visit metal structure company visit
---
# May 26 -27 , Mozambique Port Railway Company (CFM) Engineering Minister Samuel , Railway Expert Use , Southern Railway Supervision xai xai , China Communications Construction in Tanzania Project Manager Luo Yufeng and his party visited Yu 'an Metal Structure Company. The delegation of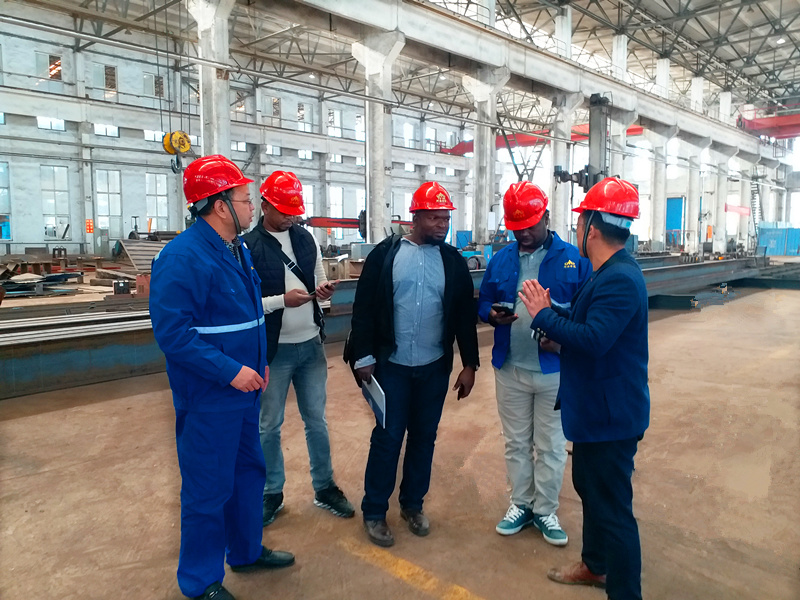 first watched the promotional video of "New Starting Point New Journey" of our company, and recorded in detail the achievements of our company in various fields such as chemical industry, cement, glass, architecture, metal structure, etc, then it focuses on the engineering cases of metal structure companies in steel structure, especially in steel bridge manufacturing. After watching, the foreign guests praised our company's achievements one after another.
During the exchange between the two parties, Minister samuel introduced to us the basic situation of CFM Company and the company's plans in ports and railways, and expressed his hope for further exchanges and the willingness to establish long-term friendly and cooperative relations.
After the conversation, the delegation went deep into the workshop production site and visited the company's production scene on the spot. Zhao Jile, chief engineer of the metal structure company, gave a detailed introduction to the steel bridge production equipment, production process and production technology. While having a deeper understanding of our company, the delegation affirmed our company's corporate culture, workshop management, production strength, product quality, production technology, and comprehensive strength.
Through this visit, both parties expressed their expectations for future cooperation.
(General Affairs Department)
---