China Building Materials (Luoyang) New Energy Project Steel Structure First Crane Successfully
---
steel structure of
bagged raw material workshop steel structure project of China building materials (Luoyang) new energy steel structure constructed by metal structure company was a complete success at 10 : 28 on the morning of may 15. Project owners, supervision units and other leaders witnessed this moment.
This project is a large-scale industrial project contracted by the group company, of which the steel structure cost about 0.16 billion yuan. After receiving the task, the metal structure company attached great importance to it. In combination with the requirements of the owner unit and the group company, it organized many discussions and continuously optimized the construction plan from the formulation of the preliminary plan to the material procurement, processing and production, on-site installation and other links in advance.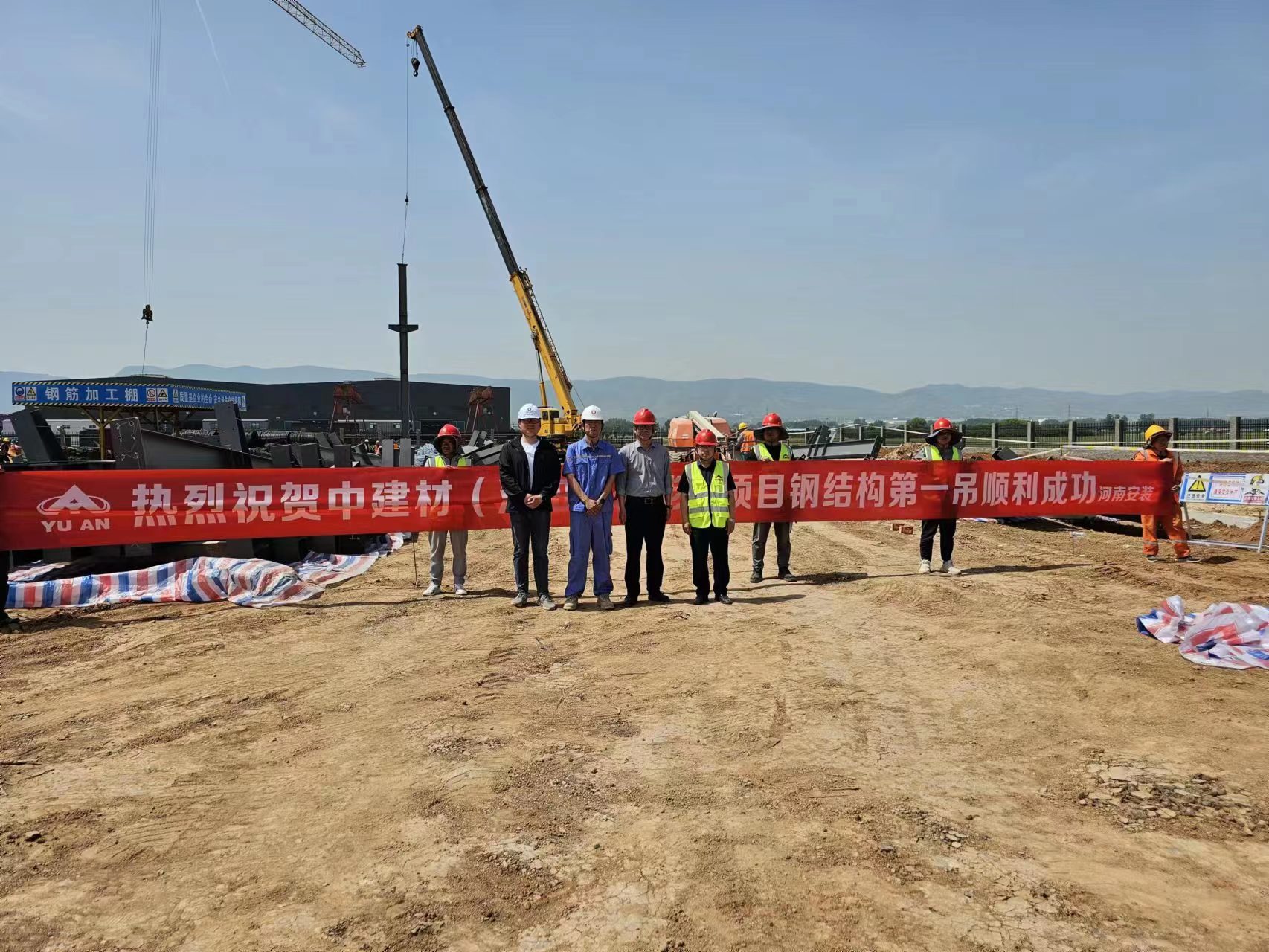 After the project department personnel entered the site, all the personnel worked hard day and night, overcame many difficulties, speeded up the construction preparation, quickly opened up the situation, made great progress in the project progress, and reached the node of the first hanging of the steel structure in the bagged raw material workshop on schedule, which opened a good start for speeding up the follow-up construction.
With the precise placement of steel columns, the construction of the main body of the steel structure in the bagged raw material workshop of the China Building Materials (Luoyang) New Energy Project has officially begun, and the project construction has entered a stage of rapid progress. In the follow-up, the steel structure project department will further fight for the construction period, pay close attention to quality and safe and civilized construction, and promote high standards and high efficiency, so as to lay a solid foundation for the subsequent professional construction.
Project Summary:
China Building Materials (Luoyang) New Energy Co., Ltd. Solar Photovoltaic Cell Packaging Material Project is located in Ruyang County. It mainly builds two 1200t/d photovoltaic cell substrate production lines and public supporting facilities, and uses the roof of the joint workshop to build photovoltaic power stations. The project has the characteristics of furnace maximization, energy consumption minimization, pollution minimization, full-line automation, and benefit maximization. After it is completed and put into production, it will lead the industry's technological development in glass technology, energy saving and emission reduction, and environmental protection.
---