Metal structure company steel structure products through the EU CE certification
---
Recently, Yu'an Metal Structure Company successfully passed the "EU Steel Structure EN1090 System" certification and obtained the EU CE certification. It indicates that the steel structure products of the metal structure company meet the mandatory requirements of the EU market and can undertake the processing and manufacturing of the European standard steel structure, which has laid a good foundation for our company to expand its international business.
During the review process, the auditor reviewed the qualifications of our company's welding personnel, material certificates, quality control documents, welding system, product testing, etc. against the elements of the European standard EN1090 certification documents, and fully affirmed the strength of our company's software and hardware and the operation of the quality management system.
The CE certification not only affirms the product and quality control ability of the metal structure company, but also indicates that our company has the "admission ticket" to enter the EU market ". The metal structure company will further implement the "three changes" of the group's business strategy, continue to improve the awareness of high-quality products, strictly control the quality of products, and help expand overseas markets.
Note:
EN1090 is a mandatory standard for steel structure products under the building materials regulation CPR in CE certification. All steel structure products entering the EU market must obtain EN1090 certificate before they can be allowed to be sold in the EU market. EN1090 certification is the audit of steel structure enterprise system, mainly to assess the quality control ability of enterprises, including welding personnel qualification, material certificate, quality control documents, welding system establishment, product testing and so on.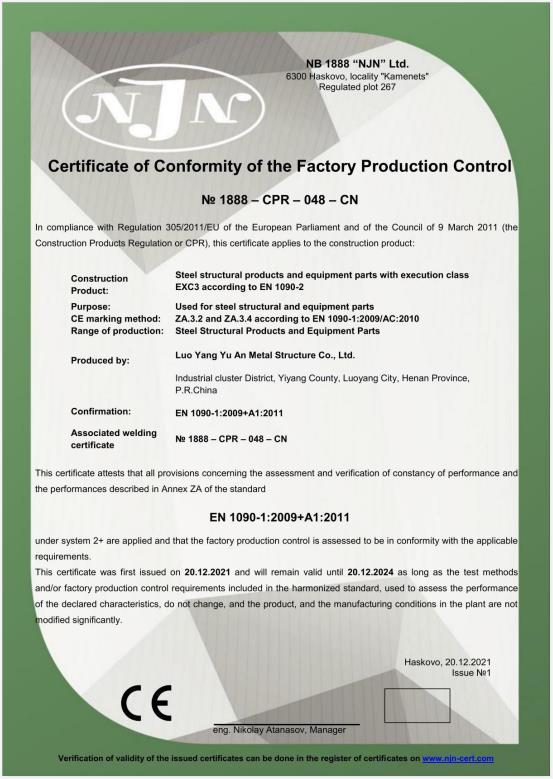 ---